Write Your Story (and Share it!)
June Contest: Ocean Stories
Your challenge this month is to write a short fiction story involving the ocean. From the deepest seaweed jungles to underwater volcanoes, take us on an adventure with your friend with fins (or submarines!) Fill your story with exciting descriptions and suspense!⁣

This contest is open to all residents of Canada, ages 5-13. Let's get writing! ✏️⁣
May Contest: 31 Days of Writing!
This month, we've made a new writing challenge for every day of the month! (You can download the challenges by clicking the purple button on the left.) Follow along with the daily writing prompts throughout May.
Share your work, words, or a picture of you or your child completing the activity on any social media. Make sure to tag us @StoryStudioWritingSociety and use #storystudioca. Each time you share, your name will be entered into a draw. On June 1st we will select five names to win a prize!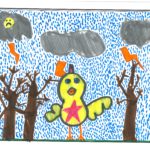 April Contest: Heroes!
Story Studio is hosting a creative writing contest and we want to hear from you! Your task is to write a short fiction story about a hero. Who is your hero? Someone imaginary, or based on a real-life champion? Fill your story with exciting characters, descriptive settings, and suspense that leaves us at the edge of our seats!
This contest has closed, but feel free to enter our May contest (below)!