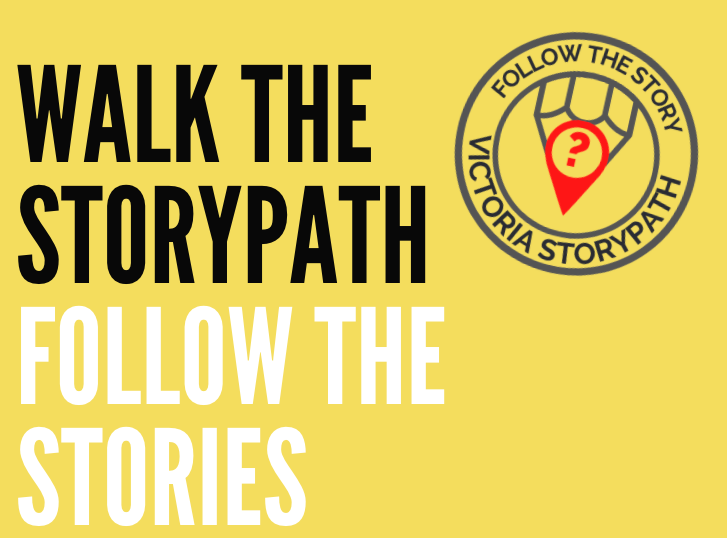 StoryPath is complete for 2021, but will return in 2022!
What was StoryPath?
From June 14th – July 2, stories written by local youth were displayed in store windows throughout Victoria, BC. A single page from every story was available to read in a different window. To read an entire story you had to visit several different places, just like a scavenger hunt!
So, why did we do this?
Story Studio is an award-winning charity that exists to empower young writers – and one way to do this is by celebrating their work!
Each year, StoryPath will showcase just a few of the amazing young writers who have participated in our programs. All of the stories were written by youth in programs we ran with our amazing community partners. In addition, this outdoor 'scavenger hunt' for stories promotes great things like literacy, outdoor physical activity, community involvement and parent engagement.
Did it cost anything to participate?
It was free, thanks to generous donors, store owners and the support of community organisations like the Greater Victoria Public Library, Victoria Literacy Connection and the Victoria Literacy Task Group.
I heard there was a contest – can I win something? Is it a race? I'm very competitive!
There's no race. But, thanks to the generous stores that participated – see a full list below – we were able to give away several random prizes to StoryPath participants.
Participating Businesses and Organisations
| | | |
| --- | --- | --- |
| Blue Sky Clothing Victoria | 1316 Government St, Victoria, BC V8W 1Y8 | https://blueskyclothingco.com/ |
| CCRR | 2001A Douglas St, Victoria, BC V8T 4K9 | https://www.childcarevictoria.org/ |
| Cherry Bomb Toys | 1410 Broad St, Victoria, BC V8W 2B1 | https://www.cherrybombtoys.com/ |
| GVPL Central | 735 Broughton St, Victoria, BC V8W 3H2 | https://www.gvpl.ca/ |
| Island Blue | 911 Fort St., Victoria, BC, V8V 3K3 | http://www.islandblue.com/ |
| Jam Cafe | 542 Herald St, Victoria, BC V8W 1S5 | https://jamcafes.com/ |
| Kaboodles Victoria | 1320 Government St, Victoria, BC V8W 1Y8 | https://kaboodlesvictoria.com/ |
| Legends Comics and Toys | 633 Johnson St, Victoria, BC V8W 1M7 | http://legendscomics.ca/ |
| Monks Office (Broad) | 1200 Broad St, Victoria, BC V8W 2A3 | https://www.monk.ca/ |
| Monks Office (Fort) | 794 Fort St, Victoria, BC V8W 2H6 | https://www.monk.ca/ |
| Mothering Touch | 975 Fort St, Victoria, BC V8V 3K3 | https://www.motheringtouch.ca/ |
| New Balance Store | 1205 Government St, Victoria, BC V8W 1Y5 | https://www.facebook.com/NewBalanceVictoria/ |
| Opus Art Supplies | 512 Herald St, Victoria, BC V8W 1S6 | https://opusartsupplies.com/ |
| Quazars Arcade | 1215 Government St, Victoria, BC V8W 1Y6 | https://quazarsarcade.com/ |
| Russell Books | 747 Fort St #100, Victoria, BC V8W 3E9 | https://www.russellbooks.com/ |
| Schoolhouse Teaching Supplies | 2014 Douglas St, Victoria, BC V8T 4L1 | https://schoolhouseteaching.com/ |
| The Papery | 734 Fort St, Victoria, BC V8W 1H2 | https://victoriapapery.ca/ |
| The Regional Assembly of Text | 560 Johnson St #116, Victoria, BC V8W 3C6 | https://www.assemblyoftext.com/ |