Victoria Imagined : Stories by Local Kids
Stories by Local Kids
Victoria Imagined was born from a wonderful collaboration with FriesenPress, who sponsored its publication. The Story Studio worked with ten grade 4/5 classrooms in inner city schools throughout Greater Victoria to compile this anthology offering students a way to tell their stories and have them heard.  These authentic tales offer a chance to meet the young authors and feel their energy and their minds as they stroll through the streets of Victoria.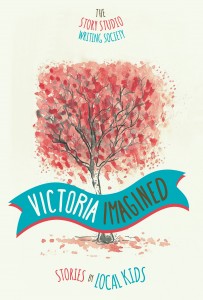 Victoria Imagined: Stories by Local Kids is a collection of stories, written by grade four and five students throughout Victoria, BC, which uses their own city as a foundation for letting their tales grow.
Please enjoy this magical journey through the streets, parks, and waters of Victoria, British Columbia, where the imaginations of these talented, young authors embark on adventures of their own.
"You haven't seen Victoria until you've seen it through the eyes of these amazing kids. Story Studio knows that the best way to encourage children, is to simply listen to what they have to say. Amazing work. I'm all ears!!"
-Ed Robertson, (Barenaked Ladies)